What AN Honor! Thank You for the Nomination!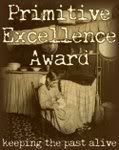 I have been selected for a Primitive Excellence Award by Lisa from Brush Strokes *N* Stitches. I am flattered and Motivated. Thank you so much and I will definately pass on an awsome reward. Again Thank You and God Bless You.
Now then, to uphold my end of receiving the award, I must pick 7 friends/blogs to nominate. Plus, the following:
*Put the logo on your blog.
*Add a link to the person who awarded you.
*Nominate at least seven other blogs.
*Add links to those blogs on your blog.
*Leave a message for your nominee on their blog.
This is the hard part because there are so many talented artist out there. Here are my nominees:
1. Kim of Kim Hardt Originals. Very talented and creative person. I love her blog. http://www.kimhardtoriginals.blogspot.com/
2. Helena of Snow Pond Primitives what a fun blog. http://helenacstudios.typepad.com/snow_pond_primitives/
3. Penny of Miss Pootsies Primitives. You have to go over and look at her TTIBS. Teenie Tiny Iddie Biddies. Cutest prim little biddies....http://misspootsiesprimitives.blogspot.com/
4. Kelly from Once in a Blue Moon Primitives. Such an imagination and wonderful work. http://onceinabluemoonprimitives.blogspot.com/
5. Diane from Prims N More. She's got a great blog full of information and awesome prims. http://primsnmore.blogspot.com/
6. Stephanie from Sunshine N Ravioli. Such a talented artist. I love her work such an inspiration. Fellow military wife as well. http://sunshinenravioli.blogspot.com/
7. Gloria from Lowell Country Designs. Very Primitive artist great dolls. If you Love Mohair and Wool check her out. http://lowellcountrydesigns.blogspot.com/
These are my nominees....Awesome talented artists very inspiring and encouraging.